The Malu is part of the Ecofire series of pellet stoves by one of Italy's most well known and trusted manufacturers - Palazzetti. Air model with a hot air ventilator for direct heating of the home, which means there is no need of expensive installations of ducting.
Specifications
Made of steel with lacquered finish.
Cast iron top which not only looks good, but also increases heat convection.
Balanced door with self-balancing hinges - easy opening and closing.
Ceramic glass that can withstand 800°C and an air wash system that prevents blackening. This is achieved using adjustable deflectors that optimise the airflow.
Firebox and potter made of very thick cast iron which increases their life.
Large ash pan and Speedy Clean system.
Primary combustion air intake can be conveyed outdoors so it does not reduce the quality of air inside the room.
Variable-speed fan with Zero Speed Fan technology - the fan can be switched off to increase acoustic comfort and utilise only natural heat convection.
Hot air outlet on the top.
Quick Start system that reduces ignition time. It utilises a special ceramic resistance that lights quickly the pellets, thus reducing electricity consumption.
High-efficiency flue gas heat exchanger.
"Star" pellet feed system: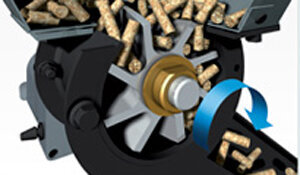 An exclusive innovation that offers a number of advantages in terms of performance and maintenance ease and whose heart consists of a precisely machined part from a single block of steel. The system guarantees a constant quantity of pellets being fed to the combustion chamber. The blades behive like doors that prevent air from going from the burning chamber back to the hopper. Furthermore it results in a regular and even burning that improves performance and reduces the emissions.
Because of the rotating motion, this system makes it possible to completely burn even the dust that usually collects on the bottom of the hopper, keeping it clean.
The compact size makes it noiseless which in combination with the silenced pipe reduces even further any unpleasant noise.
Intelligent Fumis Controller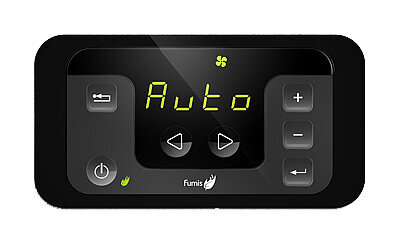 User-friendly design
Digital touch-screen display
Weekly programmer with settings for operating hours on daily and weekly basis
Fuel-saving combustion
Forced air circulation for rapid and uniform space heating
Settings for pellet quality
Wi-Fi connectivity (optional)