Pellet boilers Blacksmith are an all-in-one set combining a highly efficient boiler (efficiency >90%), one of the best pellet burners on the market- PellasX Revo and a hopper. Everything is controlled by one of PellasX's modern and intuitive controllers- the R.Control TOUCH.
Set includes:
Pellet boiler Blacksmith
Pellet burner PellasX Revo with auger
Controller R.Control TOUCH
Hopper 300L
The boiler
Designed specifically for pellet burning (solid fuel burning is an option)
Built-in cleaning system for the heat exchanger
Compact dimensions
Option for mounting the burner on the left or right side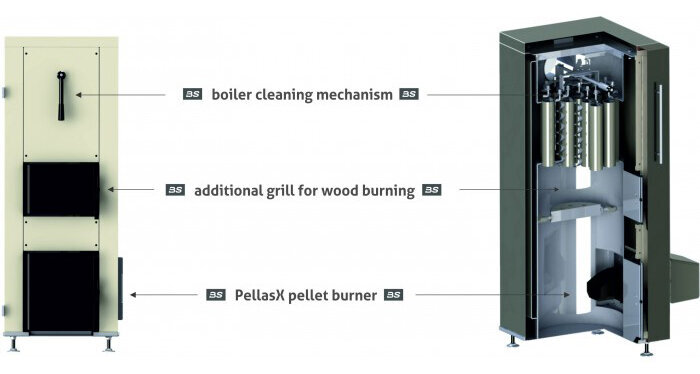 The burner
Safety


1) Patented technology for high pressure combustion, greatly reducing the risk of backfire;

2) If backfire occurs, the polyurethane pipe connecting the burner with the feeder is melted, which prevents combustion in the hopper;

3) Temperature sensor monitors the boiler temperature and cuts off fuel feeding if overheating is detected;

4) Possibility for attaching an air filter;

5) Precise control over the burner temperature.

Reliability

1) Patented fuel mixing system- increases operating time without maintenance and improves the combustion process;

2) Automatic restart after power cut-off;

3) Combustion chamber manufactured by the highest quality heat-resistant steel;

4) Made from the best materials, using the most advanced technologies available.
The control unit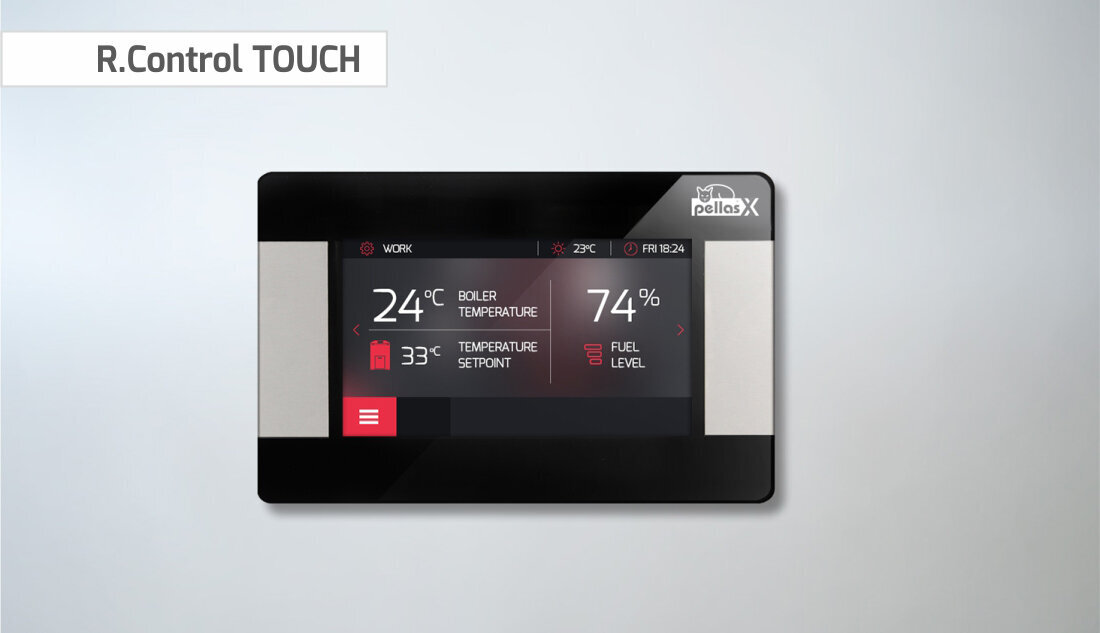 Colour touch screen for intuitive operation
Two menu types- simple one for day-to-day operation and advanced for service
Intelligent help function. By pressing the "Info" key descriptions for the parameters are shown
Modular design- the control system can operate three pumps and four heating circuits
Option for connecting outdoor temperature sensor for weather monitoring
Stepless regulation of the burner fan and power output which ensures perfect mixing of air and fuel, increasing the fuel economy
Monitoring of flame intensity, flue gas and water temperature, fuel quantity
Possibility of connecting a Lambda sensor which further increases efficiency
Weekly programmer
Alarm and error history
Statistics log