The ECOWOOD boiler series is designed for burning all types of solid fuel: wood, wood briquettes and coal. The Plus version is equipped with a modulating blower, digital control unit that can control the blower and circulation pumps and door opening for pellet burner installation.
Product features
Large combustion chamber with big fuel capacity
Three pass flue gas flow for high efficiency
Tube heat exchanger
Pellet burner ready - pre-drilled hole on the door with cover
Primary air controlled by a modulating blower
Robust construction
Digital control unit with user-friendly interface
Control of central heating and domestic hot water pumps
Automatic fuel lack detection
Overheating alarm
Control unit ecoMAX 200W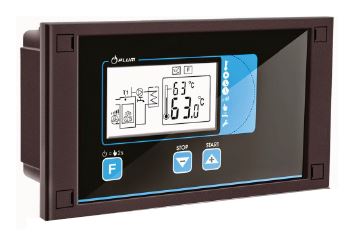 The control unit manages the burning process of the boiler based on set and current water temperature. It achieves that by turning on/off or modulates the speed of the primary air blower installed on the boiler. The controller also manages central heating pump (circulation pump) and domestic hot water pump (if one is installed). It also has the option of room thermostat connection and has fuel detection capabilities and switches the boiler to standby mode if it's lacking fuel.
Boiler design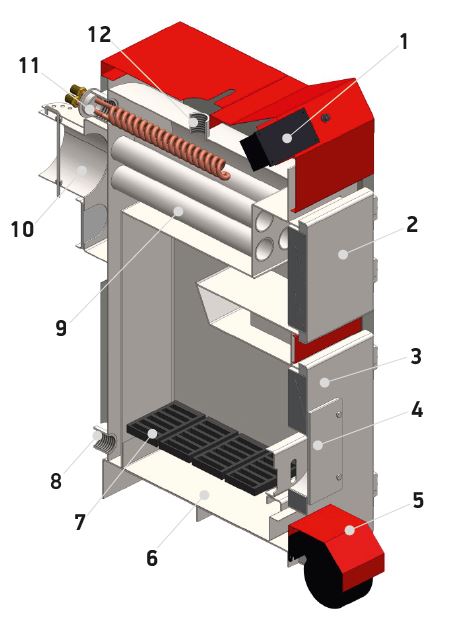 | | |
| --- | --- |
| 1 | Control panel |
| 2 | Heat exchanger access door |
| 3 | Loading and cleaning door |
| 4 | Pellet burner opening |
| 5 | Primary air blower |
| 6 | Ash tray |
| 7 | Metal ash grates |
| 8 | Cold water inlet |
| 9 | Tube heat exchanger |
| 10 | Flue exit |
| 11 | Safety heat exchanger |
| 12 | Hot water outlet |
Installation scheme example