It's designed to be suited in your living room, and has a big glass window that simplifies the spreading of the warmth from the boiler and shows you the direct source of the comfort in your home - our flame.
The model has a number of advantages compared to the classic Eco Spar pellet stoves:
Built-in turbulators that slow down the exhust gases thus increasing the heat exchange which also increases efficiency
Upper and lower hidden doors for cleaning (below and above the burning chamber door) that simplify the cleaning without damaging the looks
The hearth of the pellet stove is made of very thick cold-rolled metal sheet, as well as a supporting structure which is coated with high temperature and high quality powder coating. The upper part, the lower part and the burner are made of a special metal sheet.
The inner part of the burner is coated with double metal sheet which guarantees higher thermal power of the pellet stove. The burner has a door with ceramic glass which is heat resistant at a temperature of up to 700 °C. By this solution we wanted you to see the fire inside the burner, at the same time avoiding contact with the dangerous sparkles and appearance of smoke. The door is hermetically closed.
Intelligent Fumis ALPHA controller: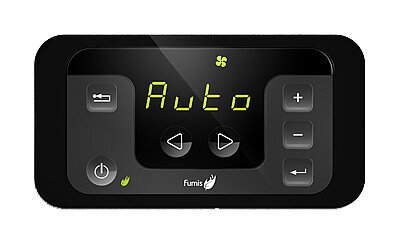 User friendly design;
More efficient combustion process;
Control of circulation pump;
Fuel-saving combustion;
Forced air circulation for rapid and uniform space heating;
Diminishing emissions;
3 settings for pellet quality;
Weekly programmer;
Wi-Fi connectivity (optional).
Value subject to variations depending on the installation area. The technical data given above are indicative and not binding. The manufacturer reserves the right to make modifications at any time to improve the product performance.