Buffer Tank Sunsystem, Model PR 500, Capacity 500L, One heat exchanging coil Vessel
The buffer tanks of series PR of the company SUNSYSTEM used for improving the performance and efficiency of heating, through the production and storage of hot water, which is used in the central space heating system. These specific buffer tanks allow the use of up to 2 external heat sources and optional kit for electric heating with nominal power 3kW, 4.5kW, 6kW or 7.5kW.
Accumulates the heat generated by boiler; recommended for each space-heating system. Ensures optimum operating mode of biomass boiler, permitting its functioning at nominal power output even when the heating system does not need all the heat energy produced thereby.
Produced heat is accumulated and stored inside the buffer tank and can be used even when the boiler itself has cooled down.
Product Features
Range of volumes of 300-3000 liters
Upright storage tank made of steel S235JR
Primer coated on the outside
CFC free soft PU-foam insulation with thickness of 100 mm
PVC coating in RAL 9006 or other colors on demand
All threads are internal
Option for installing a heating element as back-up source of heat
Compressive strength 3 bar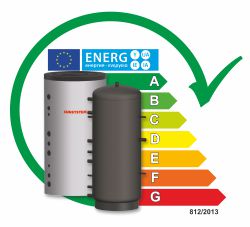 Energy Efficiency Directive 2010/30 /EU,
Regulation 812/2013:

Class C - capacity from 300 to 3000 Liters;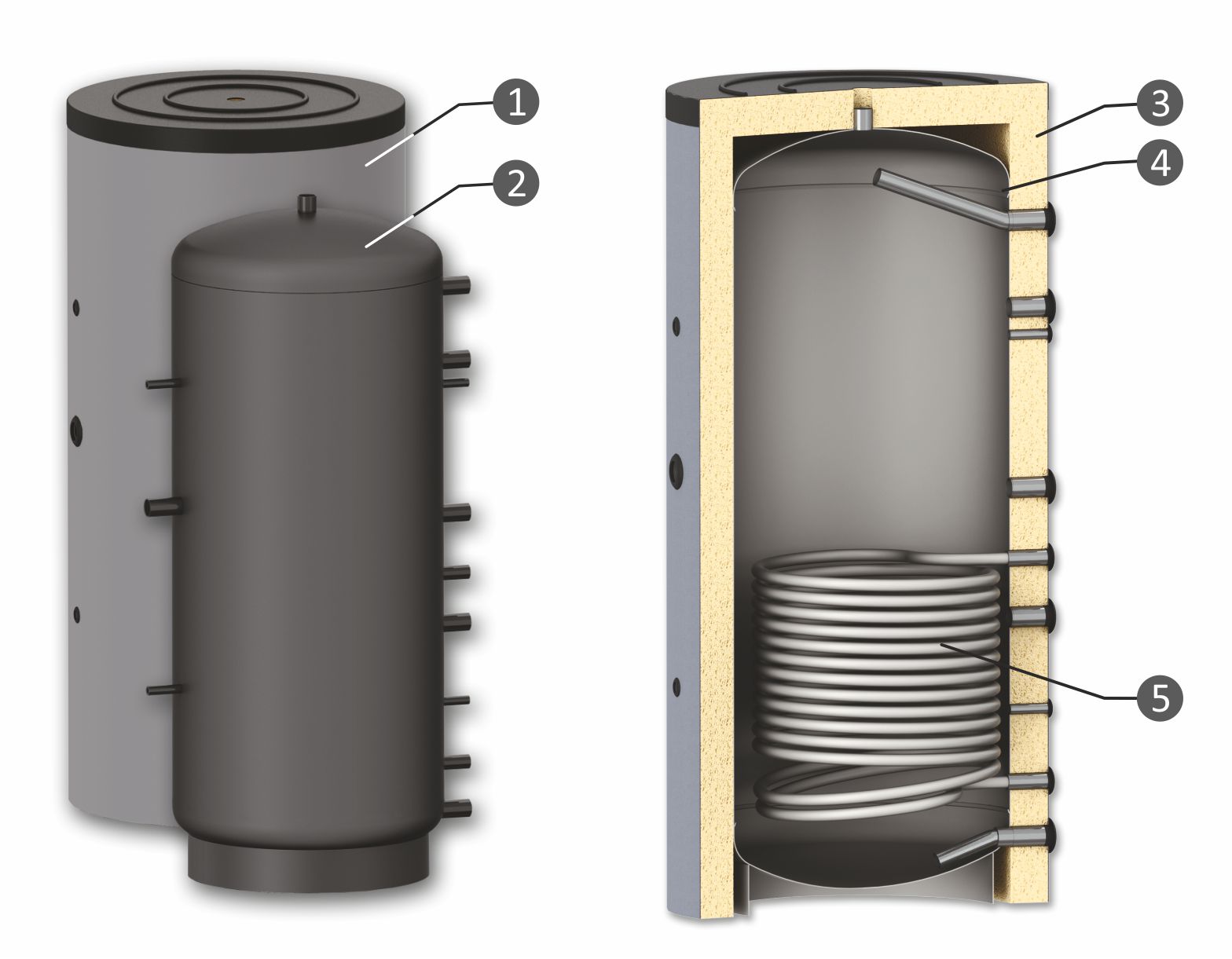 1. Aesthetic PVC jacket with color RAL 9006
2. Primer coated outer surface
3. Removable insulation
4. Water tank of low-carbon steel
5. Lower coil S1
Characteristics
Weight (kg)
129.0000
Country of Manufacture
Bulgaria
Dimension Height (mm)
1660
Warranty
2 Years
Thermometer
Optional
Energy efficiency class
C
Water capacity/content (L)
500
Lower coil S1 capacity (L)
10.5
Installation
Free standing
Heat exchanger coil
One heat exchanger coil
Height without insulation (mm)
1610
Diameter (mm)
850
Diameter without insulation (mm)
650
Minimum vertical clearance (mm)
1640
Insulation weight (kg)
12.3
Lower coil S1 heat exchanging surface (m²)
1.7
Maximum buffer operating temperature (°C)
95
Sensor sleeve A (mm)
G 1/2'' / 410
Electric heating element B (mm)
G 1 1/2'' / 790
Sensor sleeve C (mm)
G 1/2'' / 1120
Air vent sleeve D (mm)
G 1 1/2'' / 1610
Boiler heat carrier E (mm)
G 1 1/2'' / 1370
Sensor sleeve G (mm)
G 1/2'' / 1120
Boiler heat carrier H (mm)
G 1 1/2'' / 990
Boiler heat carrier J (mm)
G 1 1/2'' / 880
Heat carrier inlet L (mm)
G 1'' / 770
Boiler heat carrier M (mm)
G 1 1/2'' / 620
Sensor sleeve N (mm)
G 1/2'' / 460
Heat carrier outlet O (mm)
G 1'' / 250
Maximum coil operating temperature (°C)
110