Steel boiler with natural air feed, controlled by a thermostatic draught regulator. Solid fuel boilers NWB MAX range in nominal output from 20 to 110 kW to satisfy the heating demands of medium to large sized spaces. They are engineered for burning solid fuel - wood, wood briquettes class B and coal, and provide the option for fitting pellet, oil or gas-fired burners.
Manufacture
The boiler body is manufactured from high quality steel with 5mm thickness for the combustion chamber and 3mm thickness for the water mantle. The combustion chamber has a large heat exchanging surface and low chamber impedance. Large firebox door ensures easy loading even of large chunks of wood.
Effectiveness
To increase the heat exchange, the combustion chamber's surface is ribbed and designed for a three-pass flue gas flow. The mantle completely envelops the firebox for maximized usage of the heat. The boiler's body is insulated from the external conditions by 50mm thick high temperature resisting wool. This series uses a thermostatic draught regulator that opens or closes a flap on the lower door, depending on the amount of air needed for the burning process.
Safety devices
For a safe and reliable operation of the boiler, a number of safety devices are installed
- Thermostatic draught regulator;
- Removable metallic ash grate protects the heat exchanging pipes and the chamber base from the flame;
- Pressure relief valve 3 bar incl.in the delivery set;
- Safety heat evacuator: a tap-water filled line passes through the uppermost part of the boiler body. In case of overheating it is triggered open by a thermostatic valve (not included) to evacuate the heat off the boiler.
Fuel
The central heating boiler can operate with natural untreated wood, but also with coal and compressed solid fuels such as briquettes. Maximum length of the wood logs is between 330mm and 500mm depending on the model. Fuel moisture should be 20% or lower.
In order to use the maximum caloricity of the fuel, the wood logs should be dried for a prolonged period of time. High moisture levels reduces caloricity and the output power of the boiler.
Versatility
This series of boilers is manufactured for burning solid fuel, with the option of adaptation to a different kind of fuel. This is possible by mounting a pellet, gas or an oil burner on the lower door opening. A flange is also needed to mount the burner (optional).
Schematic of the main features of a NWB MAX wood boiler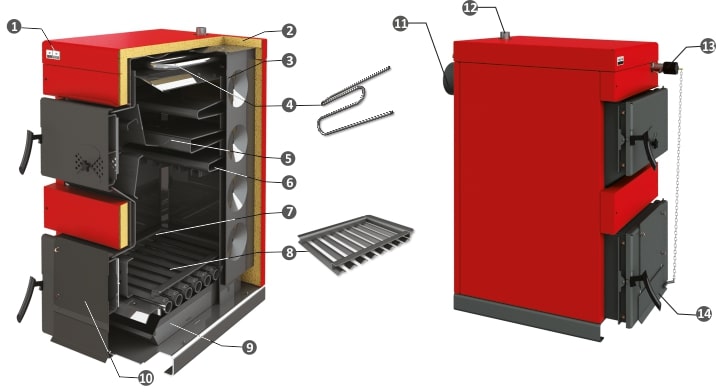 Legend:
1. Temperature indicator
2. Housing
3. High efficiency thermal insulation
4. Safety heat evacuator
5. Three-pass flue gas flow
6. Mantle
7. Combustion chamber
8. Metal grate
9. Ash-and-soot container
10. Burner flange
11. Flue
12. Hot water outlet
13. Thermostatic regulator
14. Air intake flap
This appliance complies with EN 303-5.